Particle Physics Planet
July 05, 2015
July 04, 2015
July 03, 2015
July 02, 2015
July 01, 2015
June 30, 2015
June 29, 2015
June 28, 2015
In Memory Of David Cline
I was saddened today to hear of the death of David Cline. I do not have much to say here - I am not good with obituaries - but I do remember meeting him at a conference in Albuquerque in 2008, where we chatted on several topics, among them the history of the CDF experiment, a topic on which I had just started to write a book. 

Perhaps the best I can do here as a way to remember Cline, whose contributions to particle physics can and will certainly be better described by many others, is to report a quote from a chapter of the book, which describes a funny episode on the very early days of CDF. I think he did have a sense of humor, so he might not dislike it if I do.

---
June 26, 2015
Naddy
Yesterday, an interesting thing happened while I was out in my neighbourhood walking my son for a good hour or more (covered, in a stroller - I was hoping he'd get some sleep), visiting various shops, running errands. Before describing it, I offer two bits of background information as (possibly relevant?) context. (1) I am black. (2) I live in a neighbourhood where there are very few people of my skin colour as residents. Ok, here's the thing: * * * I'm approaching two young (mid-to-late teens?) African-American guys, sitting at a bus stop, chatting and laughing good-naturedly. As I begin to pass them, nodding a hello as I push the stroller along, one of them stops me. [...]
Click to continue reading this post
Robert Boyle Summer School 2015
This weekend, I'm at the Robert Boyle Summer School, an annual 3-day science festival in Lismore, Co. Waterford in Ireland. It's my favourite annual conference by some margin – a small number of talks by some highly eminent scholars of the history and philosophy of science, aimed at curious academics and the public alike, with lots of time for questions and discussion after each presentation.
Born in Lismore Castle into a wealthy landowning family, Boyle  became one of the most important figures in the Scientific Revolution,  well-known for his scientific discoveries, his role in the Royal Society and his influence in promoting the new 'experimental philosophy' in science.
The Irish-born scientist and aristocrat Robert Boyle   
Lismore Castle in Co. Waterford , the birthplace of Robert Boyle
As ever, the summer school takes place in Lismore, the beautiful town that is the home of Lismore Castle where Boyle was born. This year, the conference commemorates the 350th anniversary of the Philosophical Transactions of the Royal Society by considering the history of the publication of scientific work, from the first issue of  Phil. Trans. to the problem of fraud in scientific publication today.
The first talk this morning was 'Robert Boyle, Philosophical Transactions and Scientific Communication' by Professor Michael Hunter of Birbeck College. Professor Hunter is one of the world's foremost experts on Boyle, and he gave a thorough overview of Boyle's use of the Phil. Trans to disseminate his findings. Afterwards, Dr. Aileen Fyfe  of the University of St Andrews gave the talk 'Peer Review: A History From 1665′ carefully charting how the process of peer review evolved over time from Boyle's time to today.
The renowned Boyle scholar Professor Michael Hunter of Birbeck College, UCL, in action
This afternoon, we had the wonderful talk 'Lady Ranelagh, the Hartlib Circle and Networks for Scientific Correspondence'  in the spectacular setting of St Carthage's Cathedral, given by Dr.Michelle DiMeo of the Chemical Heritage Foundation.  I knew nothing of Lady Ranelagh or the notion of a Republic of Letters  before this. The Hartlib Circle was clearly an important  forerunner of the Philosophical Transactions and Lady Ranelagh's role in the Circle and in Boyle's scientific life has been greatly overlooked.
St Carthage's Cathedral in Lismore
Professor DiMeo unveiling a plaque in memory of Lady Ranelagh at the Castle. The new plaque is on the right, to accompany the existing plaque in memory of Robert Boyle on the left 
Tomorrow will see talks by Professor Dorothy Bishop (Oxford) and Sir John Pethica (Trinity College Dublin), but in the meanwhile I need to catch some sleep before tonight's barbecue in Lismore Castle!
Off to the Castle for dinner
Update
We had some great music up at the Castle last night, followed by an impromptu session in one of the village pubs. The highlight for many was when Sir John Pethica,  VP of the Royal Society, produced a fiddle from somewhere and joined in. As did his wife, Pam – talk about Renaissance men and women!
Turning to more serious topics, this morning Professor Bishop gave a frightening account of some recent cases of fraudulent publication in science – including a case she herself played a major part in exposing! However, not to despair, as Sir John noted in his presentation that the problem may be much more prevalent in some areas of science than others. This made sense to me, as my own experience of the publishing world in physics is that of very conservative editors that err on the side of caution. Indeed, it took a long time for our recent discovery of an unknown theory by Einstein to be accepted as such by the physics journals.
All in all, a superb conference in a beautiful setting.  On the last day, we were treated to a tour of the castle gardens, accompanied by Robert Boyle and his sister.
Robert Boyle and his sister Lady Ranelagh picking flowers at the Castle on the last day of the conference
You can find the full conference programme here. The meeting was sponsored by Science Foundation Ireland, the Royal Society of Chemistry, the Institute of Chemisty (Ireland), the Institute of Physics (Ireland), the Robert Boyle Foundation,  i-scan, Abbott, Lismore Castle Arts and the Lismore House Hotel.
Higher-Dimensional Rewriting in Warsaw (Part 2)
Today I'm going to this workshop:
• Higher-Dimensional Rewriting and Applications, 28-29 June 2015, Warsaw, Poland.
Many of the talks will be interesting to people who are trying to use category theory as a tool for modelling networks!
For example, though they can't actually attend, Lucius Meredith and my student Mike Stay hope to use Google Hangouts to present their work on Higher category models of the π-calculus. The π-calculus is a way of modelling networks where messages get sent here and there, e.g. the internet. Check out Mike's blog post about this:
• Mike Stay, A 2-categorical approach to the pi calculus, The n-Category Café, 26 May 2015.
Krzysztof Bar, Aleks Kissinger and Jamie Vicary will be speaking about Globular, a proof assistant for computations in n-categories:
This talk is a progress report on Globular, an online proof assistant for semistrict higher-dimensional rewriting. We aim to produce a tool which can visualize higher-dimensional categorical diagrams, assist in their construction with a point-and-click interface, perform type checking to prevent incorrect composites, and automatically handle the interchanger data at each dimension. Hosted on the web, it will have a low barrier to use, and allow hyperlinking of formalized proofs directly from research papers. We outline the theoretical basis for the tool, and describe the challenges we have overcome in its design.
Eric Finster will be talking about another computer system for dealing with n-categories, based on the 'opetopic' formalism that James Dolan and I invented. And Jason Morton is working on a computer system for computation in compact closed categories! I've seen it, and it's cool, but he can't attend the workshop, so David Spivak will be speaking on his work with Jason on the theoretical foundations of this software:
We consider the linked problems of (1) finding a normal form for morphism expressions in a closed compact category and (2) the word problem, that is deciding if two morphism expressions are equal up to the axioms of a closed compact category. These are important ingredients for a practical monoidal category computer algebra system. Previous approaches to these problems include rewriting and graph-based methods. Our approach is to re-interpret a morphism expression in terms of an operad, and thereby obtain a single composition which is strictly associative and applied according to the abstract syntax tree. This yields the same final operad morphism regardless of the tree representation of the expression or order of execution, and solves the normal form problem up to automorphism.
Recently Eugenia Cheng has been popularizing category theory, touring to promote her book Cakes, Custard and Category Theory. But she'll be giving two talks in Warsaw, I believe on distributive laws for Lawvere theories.
As for me, I'll be promoting my dream of using category theory to understand networks in electrical engineering. I'll be giving a talk on control theory and a talk on electrical circuits: two sides of the same coin, actually.
• John Baez, Jason Erbele and Nick Woods, Categories in control.
If you've seen a previous talk of mine with the same title, don't despair—this one has new stuff! In particular, it talks about a new paper by Nick Woods and Simon Wadsley.
Abstract. Control theory is the branch of engineering that studies dynamical systems with inputs and outputs, and seeks to stabilize these using feedback. Control theory uses "signal-flow diagrams" to describe processes where real-valued functions of time are added, multiplied by scalars, differentiated and integrated, duplicated and deleted. In fact, these are string diagrams for the symmetric monoidal category of finite-dimensional vector spaces, but where the monoidal structure is direct sum rather than the usual tensor product. Jason Erbele has given a presentation for this symmetric monoidal category, which amounts to saying that it is the PROP for bicommutative bimonoids with some extra structure.

A broader class of signal-flow diagrams also includes "caps" and "cups" to model feedback. This amounts to working with a larger symmetric monoidal category where objects are still finite-dimensional vector spaces but the morphisms are linear relations. Erbele also found a presentation for this larger symmetric monoidal category. It is the PROP for a remarkable thing: roughly speaking, an object with two special commutative dagger-Frobenius structures, such that the multiplication and unit of either one and the comultiplication and counit of the other fit together to form a bimonoid.
• John Baez and Brendan Fong, Circuits, categories and rewrite rules.
Abstract. We describe a category where a morphism is an electrical circuit made of resistors, inductors and capacitors, with marked input and output terminals. In this category we compose morphisms by attaching the outputs of one circuit to the inputs of another. There is a functor called the 'black box functor' that takes a circuit, forgets its internal structure, and remembers only its external behavior. Two circuits have the same external behavior if and only if they impose same relation between currents and potentials at their terminals. This is a linear relation, so the black box functor goes from the category of circuits to the category of finite-dimensional vector spaces and linear relations. Constructing this functor makes use of Brendan Fong's theory of 'decorated cospans'—and the question of whether two 'planar' circuits map to the same relation has an interesting answer in terms of rewrite rules.
The answer to the last question, in the form of a single picture, is this:
(Click to enlarge.) How can you change an electrical circuit made out of resistors without changing what it does? 5 ways are shown here:
You can remove a loop of wire with a resistor on it. It doesn't do anything.

You can remove a wire with a resistor on it if one end is unattached. Again, it doesn't do anything.

You can take two resistors in series—one after the other—and replace them with a single resistor. But this new resistor must have a resistance that's the sum of the old two.

You can take two resistors in parallel and replace them with a single resistor. But this resistor must have a conductivity that's the sum of the old two. (Conductivity is the reciprocal of resistance.)

Finally, the really cool part: the Y-Δ transform. You can replace a Y made of 3 resistors by a triangle of resistors But their resistances must be related by the equations shown here.
For circuits drawn on the plane, these are all the rules you need! This was proved here:
• Yves Colin de Verdière, Isidoro Gitler and Dirk Vertigan, Réseaux électriques planaires II.
It's just the beginning of a cool story, which I haven't completely blended with the categorical approach to circuits. Doing so clearly calls for 2-categories: those double arrows are 2-morphisms! For more, see:
• Joshua Alman, Carl Lian and Brandon Tran, Circular planar electrical networks I: The electrical poset EPn.
June 25, 2015
Early-Stage Researcher Positions To Open Soon
The Marie-Curie network I am coordinating, AMVA4NewPhysics, is going to start very soon, and with its start several things are going to happen. One you should not be concerned with is the arrival of the first tranche of the 2.4Meuros that the European Research Council has granted us. 
Something more interesting to you, if you have a degree in Physics or Statistics, is the fact that the network will soon start hiring ten skilled post-lauream researchers across Europe, with the aim of providing them with an exceptional plan of advanced training in particle physics, data analysis, statistics, machine learning, and more.
Exploring dark energy with robots
The Dark Energy Spectroscopic Instrument will produce a 3-D space map using a 'hive' of robots. 
Five thousand pencil-shaped robots, densely nested in a metal hive, whir to life with a precise, dizzying choreography. Small U-shaped heads swivel into a new arrangement in a matter of seconds.
This preprogrammed routine will play out about four times per hour every night at the Dark Energy Spectroscopic Instrument. The robots of DESI will be used to produce a 3-D map of one-third of the sky. This will help DESI fulfill its primary mission of investigating dark energy, a mysterious force thought to be causing the acceleration of the expansion of the universe.
The tiny robots will be arranged in 10 wedge-shaped metal "petals" that together form a cylinder about 2.6 feet across. They will maneuver the ends of fiber-optic cables to point at sets of galaxies and other bright objects in the universe. DESI will determine their distance from Earth based on the light they emit.
DESI's robots are in development at Lawrence Berkeley National Laboratory, the lead in the DESI collaboration, and at the University of Michigan.
The robots—each about 8 millimeters wide in their main section and 8 inches long—will be custom-built around commercially available motors measuring just 4 millimeters in diameter. This type of precision motor, at this size, became commercially available in 2013 and is now manufactured by three companies. The motors have found use in medical devices such as insulin pumps, surgical robots and diagnostic tools.
At DESI, the robots will automate what was formerly a painstaking manual process used at previous experiments. At the Baryon Oscillation Spectroscopic Survey, or BOSS, which began in 2009, technicians must plug 1000 fibers by hand several times each day into drilled metal plates, like operators plugging cables into old-fashioned telephone switchboards.
"DESI is exciting because all of that work will be done robotically," says Risa Wechsler, a co-spokesperson for DESI and an associate professor of the Kavli Institute for Particle Astrophysics and Cosmology, a joint institute of Stanford University and SLAC National Accelerator Laboratory. Using the robots, DESI will be able to redirect all of its 5000 fibers in an elaborate dance in less than 30 seconds (see video).
"DESI definitely represents a new era," Wechsler says.
In addition to precisely measuring the color of light emitted by space objects, DESI will also measure how the clustering of galaxies and quasars, which are very distant and bright objects, has evolved over time. It will calculate the distance for up to 25 million space objects, compared to the fewer than 2 million objects examined by BOSS.
The robots are designed to both collect and transmit light. After each repositioning of fibers, a special camera measures the alignment of each robot's fiber-optic cable within thousandths of a millimeter. If the robots are misaligned, they are automatically individually repositioned to correct the error.
Each robot has its own electronics board and can shut off and turn on independently, says Joe Silber, an engineer at Berkeley Lab who manages the system that includes the robotic array.
In seven successive generations of prototype designs, Silber has worked to streamline and simplify the robots, trimming down their design from 60 parts to just 18. "It took a long time to really understand how to make these things as cheap and simple as possible," he says. "We were trying not to get too clever with them."
The plan is for DESI to begin a 5-year run at Kitt Peak National Observatory near Tucson, Arizona, in 2019. Berkeley and Michigan scientists plan to build a test batch of 500 robots early next year, and to build the rest in 2017 and 2018.

Speed Dating for Science!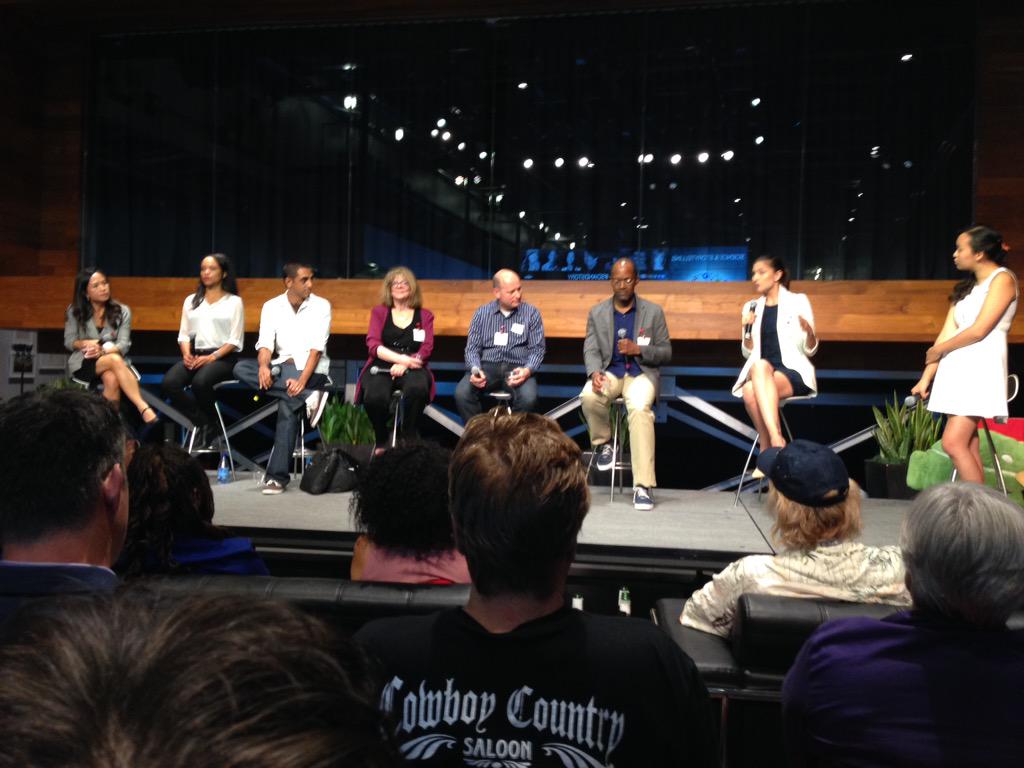 Last night was amusing. I was at the YouTubeLA space with 6 other scientists from various fields, engaging with an audience of writers and other creators for YouTube, TV, film, etc. It was an event hosted by the Science and Entertainment Exchange and Youtube/Google, and the idea was that we each had seven minutes to present in seven successive rooms with different audiences in each, so changing rooms each seven minutes. Of course, early on during the planning conference call for the event, one of the scientists asked why it was not more efficient to simply have one large [...]
Click to continue reading this post
June 24, 2015
June 23, 2015
Bringing neutrino research back to India
The India-based Neutrino Observatory will provide a home base for Indian particle physicists.
Pottipuram, a village in southern India, is mostly known for its farming. Goats graze on the mountains and fields yield modest harvests of millets and pulses.
Earlier this year, Pottipuram became known for something else: The government announced that, nearby, scientists will construct a new research facility that will advance particle physics in India.
A legacy of discovery
From 1951 to 1992, Indian scientists studied neutrinos and muons in a facility located deep within what was then one of the largest active gold mines in the world, the Kolar Gold Fields.
The lab hosted international collaborations, including one that discovered atmospheric neutrinos—elusive particles that shoot out of collisions between cosmic rays and our atmosphere. The underground facility also served as a training ground for young and aspiring particle physicists.
But when the gold reserves dwindled, the mining operations pulled out. And the lab, unable to maintain a vast network of tunnels on its own, shut down, too. Indian particle physicists who wanted to do science in their country had to switch to a related field, such as nuclear physics or materials science.
Almost immediately after the closure of the Kolar lab, plans began to take shape to build a new place to study fundamental particles and forces. Physicist Naba Mondal of the Tata Institute of Fundamental Research in Mumbai, who had researched at Kolar, worked with other scientists to build a collaboration—informally at first, and then officially in 2002. They now count as partners scientists from 21 universities and research institutions across India.
The facility they plan to build is called the India-based Neutrino Observatory.
Mondal, who leads the INO collaboration, has high hopes the facility will give Indian particle physics students the chance to do first-class research at home.
"They can't all go to CERN or Fermilab," he says. "If we want to attract them to science, we have to have experimental facilities right here in the country."
Finding a place
INO will house large detectors that will catch particles called neutrinos.
Neutrinos are produced by a variety of processes in nature and hardly ever interact with other matter; they are constantly streaming through us. But they're not the only particles raining down on us from space. There are also protons and atomic nuclei coming from cosmic rays.
To study neutrinos, scientists need a way to pick them out from the crowd. INO scientists want to do this by building their detectors inside a mountain, shielded by layers of rock that can stop cosmic ray particles but not the slippery neutrinos.
Rock is especially dense in the remote, monolithic hills near Pottipuram. So, the scientists set about asking the village for their blessing to build there.
This posed a challenge to Mondal. India is a large country with 22 recognized regional languages. Mondal grew up in West Bengal, near Kolkata, more than 1200 miles away from Pottipuram and speaks Bengali, Hindi and English. The residents of Pottipuram speak Tamil.
Luckily, some of Mondal's colleagues speak Tamil, too.
One such colleague is D. Indumathi of the Institute of Mathematical Sciences in Chennai. Indumathi spent more than 5 years coordinating a physics subgroup working on designing INO's proposed main detector, a 50,000-ton, magnetized stack of iron plates and scintillator. But her abilities and interests extend beyond the pure physics of the project.
"I like talking about science to people," she says. "I get very involved, and I am very passionate about it. So in that sense [outreach] was also a role that I could naturally take up."
She spent about one year talking with residents of Pottipuram, fielding questions about whether the experiment would produce a radiation hazard (it won't) and whether the goats would continue to have access to the mountain (they will). In the end, the village consented to the construction.
Neutrino physics for a new generation
Young people have shown the most interest in INO, Indumathi says. Students in both college and high school are tantalized by these particles that might throw light on yet unanswered questions about the evolution of the universe. They enjoy discussing research ideas that haven't even found their way into their textbooks.
"[There] is a tremendous feeling of wanting to participate—to be a part of this lab that is going to come up in their midst," Indumathi says.
Student S. Pethuraj, from another village in Tamil Nadu, first heard about INO when he attended a series of lectures by Mondal and other scientists in his second year of what was supposed to be a terminal master's degree at Madurai Kamaraj University.
Pethuraj connected with the professors and arranged to take a winter course from them on particle physics.
"After their lectures my mind was fully trapped in particle physics," he says.
Pethuraj applied and was accepted to a PhD program expressly designed as preparation for INO studies at the Tata Institute for Fundamental Research. He is now completing coursework.
"INO is giving me cutting-edge research experience in experimental physics and instrumentation," he says. "This experience creates in me a lot of confidence in handling and understanding the experiments."
Other young people are getting involved with engineering at INO. The collaboration has already hired recent graduates to help design the many intricate detector systems involved in such a massive undertaking.
The impact of the INO will only increase after its construction, especially for those who will have the lab in their backyard, Mondal says.
"The students from the area—they will visit and talk to the scientists there and get an idea about how science is being done," he says. "That will change even the culture of doing science."

June 22, 2015
June 21, 2015
Seeing Jupiter In Daylight
Have you ever seen Venus in full daylight ? It's a fun experience. Of course we are accustomed to see even a small crescent Moon in daylight -it is large and although of the same colour of clouds, it cannot be missed in a clear sky. But Venus is a small dot, and although it can be quite bright after the sunset or before dawn, during the day it is just a unconspicuous, tiny white dot which you never see, unless you look exactly in its direction.
What's so HoTT about Formalization?

In my last post I promised to follow up by explaining something about the relationship between homotopy type theory (HoTT) and computer formalization. (I'm getting tired of writing "publicity", so this will probably be my last post for a while in this vein — for which I expect that some readers will be as grateful as I).
As a potential foundation for mathematics, HoTT/UF is a formal system existing at the same level as set theory (ZFC) and first-order logic: it's a collection of rules for manipulating syntax, into which we can encode most or all of mathematics. No such formal system requires computer formalization, and conversely any such system can be used for computer formalization. For example, the HoTT Book was intentionally written to make the point that HoTT can be done without a computer, while the Mizar project has formalized huge amounts of mathematics in a ZFC-like system.
Why, then, does HoTT/UF seem so closely connected to computer formalization? Why do the overwhelming majority of publications in HoTT/UF come with computer formalizations, when such is still the exception rather than the rule in mathematics as a whole? And why are so many of the people working on HoTT/UF computer scientists or advocates of computer formalization?

To start with, note that the premise of the third question partially answers the first two. If we take it as a given that many homotopy type theorists care about computer formalization, then it's only natural that they would be formalizing most of their papers, creating a close connection between the two subjects in people's minds.
Of course, that forces us to ask why so many homotopy type theorists are into computer formalization. I don't have a complete answer to that question, but here are a few partial ones.
HoTT/UF is built on type theory, and type theory is closely connected to computers, because it is the foundation of typed functional programming languages like Haskell, ML, and Scala (and, to a lesser extent, less-functional typed programming languages like Java, C++, and so on). Thus, computer proof assistants built on type theory are well-suited to formal proofs of the correctness of software, and thus have received a lot of work from the computer science end. Naturally, therefore, when a new kind of type theory like HoTT comes along, the existing type theorists will be interested in it, and will bring along their predilection for formalization.

HoTT/UF is by default constructive, meaning that we don't need to assert the law of excluded middle or the axiom of choice unless we want to. Of course, most or all formal systems have a constructive version, but with type theories the constructive version is the "most natural one" due to the Curry-Howard correspondence. Moreover, one of the intriguing things about HoTT/UF is that it allows us to prove certain things constructively that in other systems require LEM or AC. Thus, it naturally attracts attention from constructive mathematicians, many of whom are interested in computable mathematics (i.e. when something exists, can we give an algorithm to find it?), which is only a short step away from computer formalization of proofs.

One could, however, try to make similar arguments from the other side. For instance, HoTT/UF is (at least conjecturally) an internal language for higher topos theory and homotopy theory. Thus, one might expect it to attract an equal influx of higher topos theorists and homotopy theorists, who don't care about computer formalization. Why hasn't this happened? My best guess is that at present the traditional 1-topos theorists seem to be largely disjoint from the higher topos theorists. The former care about internal languages, but not so much about higher categories, while for the latter it is reversed; thus, there aren't many of us in the intersection who care about both and appreciate this aspect of HoTT. But I hope that over time this will change.

Another possible reason why the influx from type theory has been greater is that HoTT/UF is less strange-looking to type theorists (it's just another type theory) than to the average mathematician. In the HoTT Book we tried to make it as accessible as possible, but there are still a lot of tricky things about type theory that one seemingly has to get used to before being able to appreciate the homotopical version.

Another sociological effect is that Vladimir Voevodsky, who introduced the univalence axiom and is a Fields medalist with "charisma", is also a very vocal and visible advocate of computer formalization. Indeed, his personal programme that he calls "Univalent Foundations" is to formalize all of mathematics using a HoTT-like type theory.

Finally, many of us believe that HoTT is actually the best formal system extant for computer formalization of mathematics. It shares most of the advantages of type theory, such as the above-mentioned close connection to programming, the avoidance of complicated ZF-encodings for even basic concepts like natural numbers, and the production of small easily-verifiable "certificates" of proof correctness. (The advantages of some type theories that HoTT doesn't yet share, like a computational interpretation, are work in progress.) But it also rectifies certain infelicious features of previously existing type theories, by specifying what equality of types means (univalence), including extensionality for functions and truth values, providing well-behaved quotient types (HITs), and so on, making it more comfortable for ordinary mathematicians. (I believe that historically, this was what led Voevodsky to type theory and univalence in the first place.)
There are probably additional reasons why HoTT/UF attracts more people interested in computer formalization. (If you can think of others, please share them in the comments.) However, there is more to it than this, as one can guess from the fact that even people like me, coming from a background of homotopy theory and higher category theory, tend to formalize a lot of our work on HoTT. Of course there is a bit of a "peer pressure" effect: if all the other homotopy type theorists formalize their papers, then it starts to seem expected in the subject. But that's far from the only reason; here are some "real" ones.
Computer formalization of synthetic homotopy theory (the "uniquely HoTT" part of HoTT/UF) is "easier", in certain respects, than most computer formalization of mathematics. In particular, it requires less infrastructure and library support, because it is "closer to the metal" of the underlying formal system than is usual for actually "interesting" mathematics. Thus, formalizing it still feels more like "doing mathematics" than like programming, making it more attractive to a mathematician. You really can open up a proof assistant, load up no pre-written libraries at all, and in fairly short order be doing interesting HoTT. (Of course, this doesn't mean that there is no value in having libraries and in thinking hard about how best to design those libraries, just that the barrier to entry is lower.)

Precisely because, as mentioned above, type theory is hard to grok for a mathematician, there is a significant benefit to using a proof assistant that will automatically tell you when you make a mistake. In fact, messing around with a proof assistant is one of the best ways to learn type theory! I posted about this almost exactly four years ago.

I think the previous point goes double for homotopy type theory, because it is an unfamiliar new world for almost everyone. The types of HoTT/UF behave kind of like spaces in homotopy theory, but they have their own idiosyncracies that it takes time to develop an intuition for. Playing around with a proof assistant is a great way to develop that intuition. It's how I did it.

Moreover, because that intuition is unique and recently developed for all of us, we may be less confident in the correctness of our informal arguments than we would be in classical mathematics. Thus, even an established "homotopy type theorist" may be more likely to want the comfort of a formalization.

Finally, there is an additional benefit to doing mathematics with a proof assistant (as opposed to formalizing mathematics that you've already done on paper), which I think is particularly pronounced for type theory and homotopy type theory. Namely, the computer always tells you what you need to do next: you don't need to work it out for yourself. A central part of type theory is inductive types, and a central part of HoTT is higher inductive types; both of which are characterized by an induction principle (or "eliminator") which says that in order to prove a statement of the form "for all , ", it suffices to prove some number of other statements involving the predicate . The most familiar example is induction on the natural numbers, which says that in order to prove "for all , " it suffices to prove and "for all , if then ". When using proof by induction, you need to isolate as a predicate on , specialize to to check the base case, write down as the inductive hypothesis, then replace by to find what you have to prove in the induction step. The students in an intro to proofs class have trouble with all of these steps, but professional mathematicians have learned to do them automatically. However, for a general inductive or higher inductive type, there might instead be four, six, ten, or more separate statements to prove when applying the induction principle, many of which involve more complicated transformations of , and it's common to have to apply several such inductions in a nested way. Thus, when doing HoTT on paper, a substantial amount of time is sometimes spent simply figuring out what has to be proven. But a proof assistant equipped with a unification algorithm can do that for you automatically: you simply say "apply induction for the type " and it immediately decides what is and presents you with a list of the remaining goals that have to be proven.
To summarize this second list, then, I think it's fair to say that compared to formalizing traditional mathematics, formalizing HoTT tends to give more benefit at lower cost. However, that cost is still high, especially when you take into account the time spent learning to use a proof assistant, which is often not the most user-friendly of software. This is why I always emphasize that HoTT can perfectly well be done without a computer, and why we wrote the book the way we did.
by shulman (viritrilbia@gmail.com) at June 21, 2015 06:01 AM
June 20, 2015
Quantum Superposition Destroyed By Gravitational Time Dilation?
This is another interesting take on why we see our world classically and not quantum mechanically. Gravitational time dilation is
enough to destroy coherent states
that maintain superposition.
With this premise, the team worked out that even the Earth's gravitational field is strong enough to cause decoherence in quite small objects across measurable timescales. The researchers calculated that an object that weighs a gram and exists in two quantum states, separated vertically by a thousandth of a millimetre, should decohere in around a millisecond. 
I think this is
similar to Penrose's claim
that gravity is responsible for decoherence of quantum states. It will be interesting if anyone can experimentally verify this latest theoretical finding.
Zz.
June 19, 2015
ATLAS Pictures Colour Flow Between Quarks
In 1992 I started working at my undergraduate thesis, the search for all-hadronic top quark pairs in CDF data. The CDF experiment was just starting to collect proton-antiproton collision data with the brand-new silicon vertex detector in what was called Run 1a, which ended in 1993 and produced the data on which the first evidence claim of top quarks was based. But I was still working on the Run 0 data: 4 inverse picobarns of collisions -the very first collisions at the unprecedented energy of 1.8 TeV. And I was not alone: many analyses of those data were still in full swing.
Subscriptions
Feeds
Last updated:
July 05, 2015 12:36 PM
All times are UTC.
Suggest a blog:
planet@teilchen.at